Advanced Tricks and Combos
This class is taught by: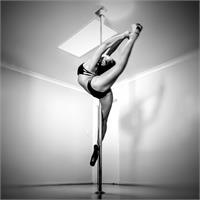 Helen began her journey as a pole dancer and aerialist in 2012, completely addicted from the moment she started. Training on various types of pole (spinning, static and circus) as well as various aerial apparatus (predominantly lyra, silks and trapeze) has allowed her to diversify her range of strength, technique and flexibility to bring back to her pole roots, giving her a unique style. Drawn to the strength, grace and beauty of pole, she thrives on the mental, physical and emotional challenges pole brings and truly believes it's a sport for the body, mind and soul!
Highly advanced pole combinations, moves and all the newest pole ricks!
Upcoming classes:
Sign Up

Wed

23 Jan 7:00 pm - 8:00 pm

with

Helen

Lui




Sign Up

Wed

30 Jan 7:00 pm - 8:00 pm

with

Helen

Lui




Sign Up

Wed

06 Feb 7:00 pm - 8:00 pm

with

Helen

Lui




Sign Up

Wed

13 Feb 7:00 pm - 8:00 pm

with

Helen

Lui




Sign Up

Wed

20 Feb 7:00 pm - 8:00 pm

with

Helen

Lui




Sign Up

Wed

27 Feb 7:00 pm - 8:00 pm

with

Helen

Lui




Sign Up

Wed

06 Mar 7:00 pm - 8:00 pm

with

Helen

Lui




Sign Up

Wed

13 Mar 7:00 pm - 8:00 pm

with

Helen

Lui




Sign Up

Wed

20 Mar 7:00 pm - 8:00 pm

with

Helen

Lui




Sign Up

Wed

27 Mar 7:00 pm - 8:00 pm

with

Helen

Lui




Wed

03 Apr 7:00 pm - 8:00 pm

with

Helen

Lui




Wed

10 Apr 7:00 pm - 8:00 pm

with

Helen

Lui




Wed

17 Apr 7:00 pm - 8:00 pm

with

Helen

Lui




Wed

24 Apr 7:00 pm - 8:00 pm

with

Helen

Lui




Wed

01 May 7:00 pm - 8:00 pm

with

Helen

Lui




Wed

08 May 7:00 pm - 8:00 pm

with

Helen

Lui




Wed

15 May 7:00 pm - 8:00 pm

with

Helen

Lui




Wed

22 May 7:00 pm - 8:00 pm

with

Helen

Lui