Level 3 Pole
This class is taught by: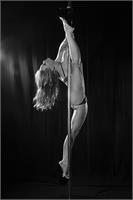 Amber's love of pole dancing began in 2012 ago when she attended a beginners class for the first time, she has been hooked ever since! Amber was able to progress very quickly through the levels of pole and is now actively competing in National Competitions and performing regularly. Her 7 years of gymnastics training give her a unique dynamic and exciting style and a very sound understanding of her body which she is passionate about sharing with her students. She loves all aspects of pole dancing from training, teaching, competing, learning and most importantly having fun.
Level 3 will start you working on the pole at height with confidence and focus on building your upper body strength to enable higher level pole moves. In this course we will start to introduce and build strength in the basic holds and positioning for more advanced level holds preparing you for advanced level pole!
Upcoming classes: