Hard-Core Abs - Strength and Conditioning
This class is taught by: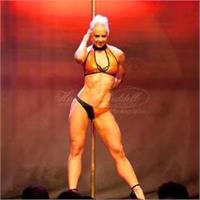 Vicki Vale is a natural born performer who comes alive whenever she steps on stage. Her very first introduction to pole was witnessing Felix perform in person in 2008. From that moment she knew she had to give this amazing art form a try.
Pole dancing empowered Vicki. It gave her confidence in her body and changed the way she saw herself. No thigh gap? Easier to grip the pole!
Vicki has gone on to perform internationally as a fitness competitor and attributes her recent successes to the positive body image she developed through pole dance. She has over 20 years' experience in the fitness industry and is ready to support you in your journey. Discover your inner sass, increase your self-confidence – all in a safe, fun and compassionate environment.
What is the key to fluidity, control, grace and poise? Core strength! To unlock all the benefits of strong core regular strength training is needed! A combination of Pilates, yoga and gymnastics to perfectly compliment your pole training or a great way to get in shape fast! Added bonuses include rock hard abs and six pack.
Upcoming classes:
Sign Up

Sun

24 Sep 10:00 am - 11:00 am

with

Felix

Cane




Sign Up

Sun

01 Oct 10:00 am - 11:00 am

with

Vicki

Vale




Sign Up

Sun

08 Oct 10:00 am - 11:00 am

with

Felix

Cane




Sign Up

Sun

15 Oct 10:00 am - 11:00 am

with

Felix

Cane




Sign Up

Sun

22 Oct 10:00 am - 11:00 am

with

Felix

Cane




Sign Up

Sun

29 Oct 10:00 am - 11:00 am

with

Felix

Cane




Sign Up

Sun

05 Nov 10:00 am - 11:00 am

with

Felix

Cane




Sign Up

Sun

12 Nov 10:00 am - 11:00 am

with

Felix

Cane




Sign Up

Sun

19 Nov 10:00 am - 11:00 am

with

Felix

Cane




Sign Up

Sun

26 Nov 10:00 am - 11:00 am

with

Felix

Cane




Sun

03 Dec 10:00 am - 11:00 am

with

Felix

Cane




Sun

10 Dec 10:00 am - 11:00 am

with

Felix

Cane




Sun

17 Dec 10:00 am - 11:00 am

with

Felix

Cane