Stretching for Flexibility
This class is taught by: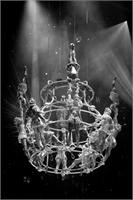 Jing-Yun Wong is a Perth based artist, having performed both around Australia and overseas. At the age of 5 she began extensive training in the disciplines of artistic gymnastics, Chinese martial arts and classical music. Competitions, performances and examinations were routinely frequent practices within these art forms. These provided her with strong foundations in which she was able to then transfer her passions comfortably into the athleticism and beauty of circus arts, rock climbing and dance. Over the years she has judged and competed in multiple hip hop events and continues to compete in rock climbing.
In 2010 Jing put her career as an Occupational Therapist on hold and focused solely on training and performing as a circus artist after being accepted into the National Institute of Circus Arts (NICA) in Melbourne. Shortly after completing her first year at NICA, specializing in aerials and handstands, she was offered a contract to perform as a house troupe artist in the Franco Dragone production "The House of Dancing Water" in Macau. Prior to moving overseas Jing performed regularly as a dancer and circus artist in gigs and live shows around WA and VIC, and was featured in television programs and advertisements while studying and working in her chosen academic fields.
Jing is currently an internationally sponsored rock climber. She is passionate about the intricate beauty of performing, the determination of training, and the motivations to face both physical and mental challenges. She is always excited to share her own knowledge and skills gained through the years of experience and to also learn from those around her. She wishes nothing more but to encourage all others to discover, recognise and cherish their own gifts and abilities to perform strengths and skills that may otherwise seem 'impossible'.
A full hour of stretchy release! Flexibility is a crucial tool for pole and many other movement arts. Increasing your flexibility will allow you to transition in and out of shapes with ease, improve the aesthetics of your lines and the mobility of your joints. All flexibility classes are tailored for any level and there are no prerequisites just a keen body and a positive mind.
Upcoming classes: