Nicole Weston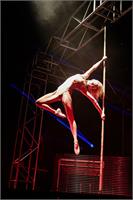 After trying all sorts of different forms of exercise throughout life, Nicole found pole in 2013 and never looked back. She fell completely in love with the art form and the confidence it gave her in herself and her body. Not only does it make her feel sexy and flexy but also more graceful in her movements.
As a child to her early teens, Nicole trained in gymnastics and really enjoys the challenge of acrobatics' within pole. She never realised how similar the two sports can be until she started pole dancing.
Nicole loves the challenge that pole can bring and is excited to be able teach, hang upside down with, and inspire more girls and guys along their pole journey.
Nicole Weston instructs the following:
A fun and friendly introduction to all things pole! Have a great time learning the basic moves, spinning, climbing and an entry level routine! What to wear? Sports attire, bare feet and shorts that end above your knees. If you have any questions or queries please contact us by email or phone!




After learning the basics in Beginners you may now want to take your pole dancing to the next level. Level 2 is where you will start to gain confidence in inverts and learn to be on the pole safely while upside down! You will start to learn leg hangs and simple pole combinations up on the pole. In this class you will learn a routine to showcase all of your newly learnt skills.




A full hour of stretchy release! Flexibility is a crucial tool for pole and many other movement arts. Increasing your flexibility will allow you to transition in and out of shapes with ease, improve the aesthetics of your lines and the mobility of your joints. All flexibility classes are tailored for any level and there are no prerequisites just a keen body and a positive mind.




Level 3 will start you working on the pole at height with confidence and focus on building your upper body strength to enable higher level pole moves. In this course we will start to introduce and build strength in the basic holds and positioning for more advanced level holds preparing you for advanced level pole!