Kat Smithers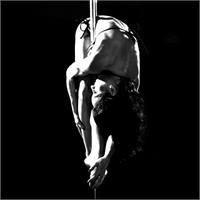 Kat Smithers instructs the following:
This class is designed to help new Parents and Mums and Dads with young tots get back into the swing of things! If your bub is a little too young to be left unattended or finding a sitter is an expensive hassle, fear not! This is your solution. Felix invites you to bring your young children along with you into the studio while you have your lesson. We will be keeping the music nice and low for little delicate ears and the pace steady and catered to each individual. Don't worry if you feel you can't give you full attention to the pole that's what this class is all about! Multitasking! The class time will be 90mins to allow for tiny and regular distractions. If 90mins seems too long don't worry at all, you can leave as soon as you feel you have gotten your pole fix for the day. If you have a very new baby Felix recommends waiting until your child has been fully immunised before bringing them along.

The goal of this class is to create a relaxed and parent friendly environment. Felix has had extensive experience catering for parents and is always looking for innovating ways to make pole an easy integration into everyday life. If you have any questions please contact the studio and we will be happy to help however we can.




A fun and friendly introduction to all things pole! Have a great time learning the basic moves, spinning, climbing and an entry level routine! What to wear? Sports attire, bare feet and shorts that end above your knees. If you have any questions or queries please contact us by email or phone!




Pole Flow and Choreography class with linking steps, floor work and pole play suitable for all levels. Don't forget to bring your knee pads to this class!




Extreme stretching and strengthening through your full range to gain deeper flexibility in all areas. It is recommended to have flat splits and bridge for this class.




A full hour of stretchy release! Flexibility is a crucial tool for pole and many other movement arts. Increasing your flexibility will allow you to transition in and out of shapes with ease, improve the aesthetics of your lines and the mobility of your joints. All flexibility classes are tailored for any level and there are no prerequisites just a keen body and a positive mind.




After learning the basics in Beginners you may now want to take your pole dancing to the next level. Level 2 is where you will start to gain confidence in inverts and learn to be on the pole safely while upside down! You will start to learn leg hangs and simple pole combinations up on the pole. In this class you will learn a routine to showcase all of your newly learnt skills.




Highly advanced pole combinations, moves and all the newest pole ricks!




What is the key to fluidity, control, grace and poise? Core strength! To unlock all the benefits of strong core regular strength training is needed! A combination of Pilates, yoga and gymnastics to perfectly compliment your pole training or a great way to get in shape fast! Added bonuses include rock hard abs and six pack.