Felix Cane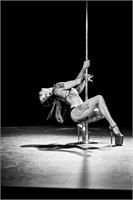 Felix Cane instructs the following:
Open to all levels and structured like your normal pole class you will begin with a warm up followed by and pole drills, games and challenges designed to increase your strength and endurance. There will be time allocated to guided practice when you are free to work on any moves or combinations that you would like with the help of your instructor.




Pole Flow routine with advanced base work including Handstands, fish flops, zombie drops, knee kips, floor spins and flips and much more!

This class will focus on developing base skills (skills on the floor and around the base of the pole), floor transitions, strength and some pole skills.

A great cardio and strengthening workout!




A full hour of stretchy release! Flexibility is a crucial tool for pole and many other movement arts. Increasing your flexibility will allow you to transition in and out of shapes with ease, improve the aesthetics of your lines and the mobility of your joints. All flexibility classes are tailored for any level and there are no prerequisites just a keen body and a positive mind.