Felix Cane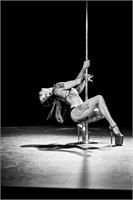 Felix Cane instructs the following:
Pole Flow routine with advanced base work including Handstands, fish flops, zombie drops, knee kips, floor spins and flips and much more!

This class will focus on developing base skills (skills on the floor and around the base of the pole), floor transitions, strength and some pole skills.

A great cardio and strengthening workout!




What is the key to fluidity, control, grace and poise? Core strength! To unlock all the benefits of strong core regular strength training is needed! A combination of Pilates, yoga and gymnastics to perfectly compliment your pole training or a great way to get in shape fast! Added bonuses include rock hard abs and six pack.




The perfect combination to get the best and most desirable results from your body. Staring with a 20 minute all over body work out to strengthen and tone - the ideal warm up for a 40 minute stretching session to cool down relax and reach your flexibility goals.